26mar5:00 pmCarpool Jam Concert Event In The Parking Lot
Crosby, Stills, Nash & Young Tribute by Deja VuThe Canyon – Montclair

Event Details

YOUR TICKETS FROM THE PREVIOUSLY SCHEDULED EVENT WILL BE HONORED ON THIS DATE.

For more than four decades the music of Crosby, Stills, Nash & Young has spoken to generations of listeners around the world. From the gentle love songs like "Our House" and "Guinnevere" to the politically charged anthems like "For What It's Worth," "Long Time Gone," and "Ohio," CSN&Y's powerful messages have never failed to excite and move audiences.

Déjà vu is the most accurate and heartfelt recreation of the CSN&Y experience. Brought to life by a group of highly dedicated and experienced LA area musicians, Déjà vu not only performs the legendary music of CSN&Y, they take their audience on a magical musical trip through classic rock history! You'll hear songs like "Teach Your Children," "Southern Cross," "Déjà vu," "Wooden Ships," "Suite: Judy Blue Eyes," and many, many more that you've come to know and love over the years. Rest assured that Déjà vu will please even the most ardent of CSN&Y fans.

March 26th, 2021

Gates 5:00pm.  Opener 5:45pm.   Headliner 7:00pm


Premier Parking Location – $89.00 per car
(Includes admission for 4 people +car parking)

General Parking Location – $59.00 per car

(Includes admission for 4 people +car parking)


General Admission: $19.00 per person


 
---
While you are here, we ask that you please follow a few simple guidelines, as mandated by the City of Montclair and State of California:
• Masks are to be worn at all times, except when you are inside your car, and not interacting with event employees. Further, "By Order of the City of Montclair, all persons entering and staying on the grounds of this business are required to wear a face-covering over their nose and mouth when outside the vehicle. Failure to comply is a misdemeanor."
• The setting up of lawn chairs, portable chairs, blankets, or seats outside of a vehicle for use by vehicle occupants will be strictly prohibited and is a violation of gathering guidance and social distancing requirements.
• Persons from the same vehicle may be permitted to sit in the back bed of a truck or the rear cargo area of a van, SUV, or other similar vehicle for viewing; provided however that no person shall exit such areas without wearing a face covering.
• The gathering of persons not from the same vehicle is prohibited.
• Drinking of alcoholic beverages is prohibited.
• Smoking of cannabis is prohibited.
• A maximum of four persons shall be permitted in each restroom at any one time, provided that social distancing can be maintained. If social distancing cannot be maintained, a maximum of two persons shall be permitted in each restroom at any one time.
---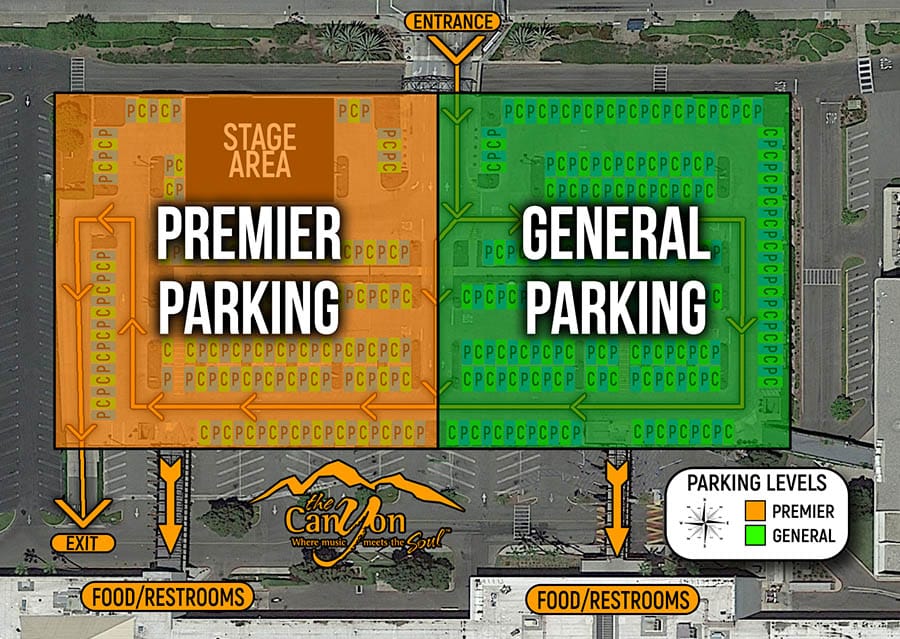 Location

The Canyon – Montclair

Montclair Place5060 E Montclair Plaza, Space #2020 Montclair, CA 91764