16jan5:00 pmPostponedCarpool Jam Concert Event In The Parking Lot
Foo Fighters Tribute by Fooz FightersOpening set by HipnosticThe Canyon – Montclair

Event Details
THIS SHOW HAS BEEN POSTPONED TO MARCH 13th 2021. YOUR TICKETS WILL BE HONORED AT THAT NEWLY RE-SCHEDULED EVENT.
For Questions Call 888-645-5006.

FOOZ FIGHTERS are the critically acclaimed and nationally recognized #1 Tribute to the Foo Fighters captivating audiences worldwide and even members of the Foo Fighters family with their high energy authentic live performances by the multiple Grammy Award-winning band.
Dave Grohl look-alike Nicky Rich is a dynamic performer who consistently delivers the over the top vocal and stage performance fans have come to expect from the legendary Foo Fighters frontman. Steve Raymond of Rock 100.7 WZXL New Jersey writes "Nicky Rich is dead-on for Dave Grohl, look, moves, energy and sound". Combine this with the bands keen sense of musicianship and note for note sonic rendition of the music and you have the ULTIMATE Foo Fighters Experience! Rock & Brews San Manuel Casino (owned by Gene Simmons and Paul Stanley of Kiss) says "Fooz Fighters are so similar to the actual band, you'll be convinced you're watching Dave Grohl and Company!".
January 16, 2021
Opening set by Hipnostic
Gates 5:00pm.  Opener 5:45pm.   Headliner 7:00pm

Premier Parking Location – $89.00 per car
(Includes admission for 4 people +car parking)
General Parking Location – $59.00 per car
(Includes admission for 4 people +car parking)

General Admission: $19.00 per person

---
While you are here, we ask that you please follow a few simple guidelines, as mandated by the City of Montclair and State of California:
• Masks are to be worn at all times, except when you are inside your car, and not interacting with event employees. Further, "By Order of the City of Montclair, all persons entering and staying on the grounds of this business are required to wear a face-covering over their nose and mouth when outside the vehicle. Failure to comply is a misdemeanor."
• The setting up of lawn chairs, portable chairs, blankets, or seats outside of a vehicle for use by vehicle occupants will be strictly prohibited and is a violation of gathering guidance and social distancing requirements.
• Persons from the same vehicle may be permitted to sit in the back bed of a truck or the rear cargo area of a van, SUV, or other similar vehicle for viewing; provided however that no person shall exit such areas without wearing a face covering.
• The gathering of persons not from the same vehicle is prohibited.
• Drinking of alcoholic beverages is prohibited.
• Smoking of cannabis is prohibited.
• A maximum of four persons shall be permitted in each restroom at any one time, provided that social distancing can be maintained. If social distancing cannot be maintained, a maximum of two persons shall be permitted in each restroom at any one time.
---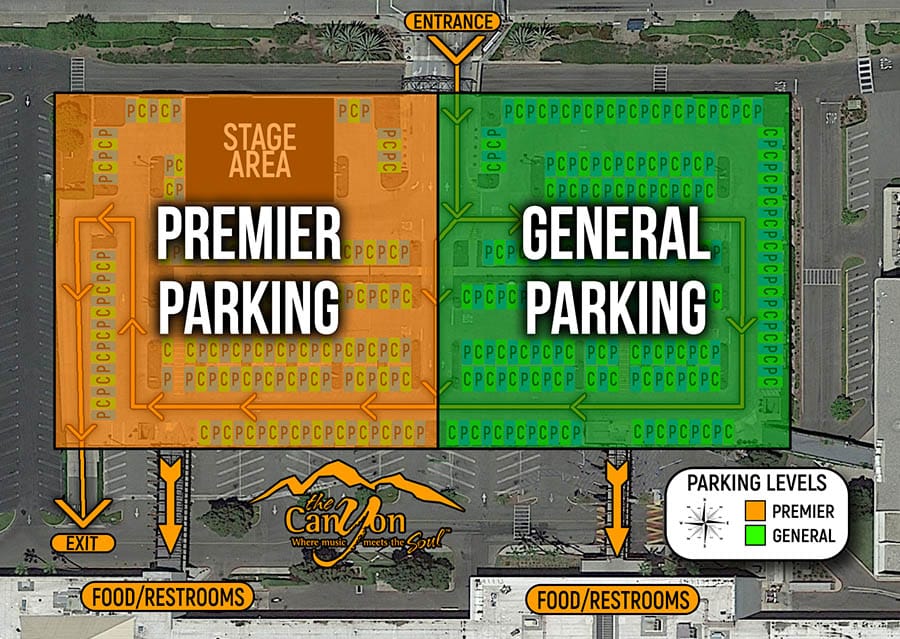 Location

The Canyon – Montclair

Montclair Place5060 E Montclair Plaza, Space #2020 Montclair, CA 91764