24apr5:00 pmCarpool Jam Concert Event In The Parking Lot
Ozzy Osbourne Tribute by OZZMANIAThe Canyon – Montclair
Covid Notice
We are open, and operating with strict observance to the mandates and guidelines issued by the State of California and local government agencies. All attendees must provide proof of vaccination or a negative Covid-19 test from within 72 hours. Again, please understand that in order to stay in business, we have no choice but to comply with these mandates. We thank you for your understanding, and look forward to a return to normalcy in the near future.
Event Details

Since 2006, OZZMANIA continues to stun enthusiastic audiences with their spot-on tribute to the Prince of Darkness himself, Ozzy Osbourne. Founding member Michael Reade (As Ozzy) Guitarist, Johnny Blade as (Zakk), perform an amazing recreation of the Ozzy and Zakk Wylde band era, giving us that uncanny Ozzy voice, and the Zakk Wylde virtuoso guitar playing, which fans have come to know and love.

Along for the ride through the rock archives are three well accomplished musicians, Joey Alva (bassist) as Rudy Sarzo and Founding Member; the always hard hitting drummer, Michael Clemens, as Randy Castillo; and Darlynn Voesten, who lends her keyboard talent to this amazing rock and roll spectacle.

By using authentic sound gear and instruments, these talented musicians combine their sonic energy to reproduce the notorious, well-known sound and look as they cover both Ozzy Osbourne and Black Sabbath material. Add in the state-of-the-art stage props, as well as video backdrop effects, and you will believe that you are witnessing a full blown rendition of Ozzy and his band, live in concert.

OZZMANIA has been honored to perform live on AXS TV's, "The World's Greatest Tribute Bands," making them the only Ozzy/Black Sabbath tribute to hold this distinction. Discover OZZMANIA and find out for yourself why so many fans consider them to be the one-and-only tribute to Ozzy.

April 24, 2021

Gates 5:00pm. Opener 5:45pm. Headliner 7:00pm


Premier Parking Location – $89.00 per car
(Includes admission for 4 people +car parking)

General Parking Location – $59.00 per car

(Includes admission for 4 people +car parking)


General Admission: $19.00 per person


 
---
While you are here, we ask that you please follow a few simple guidelines, as mandated by the City of Montclair and State of California:
• Masks are to be worn at all times, except when you are inside your car, and not interacting with event employees. Further, "By Order of the City of Montclair, all persons entering and staying on the grounds of this business are required to wear a face-covering over their nose and mouth when outside the vehicle. Failure to comply is a misdemeanor."
• The setting up of lawn chairs, portable chairs, blankets, or seats outside of a vehicle for use by vehicle occupants will be strictly prohibited and is a violation of gathering guidance and social distancing requirements.
• Persons from the same vehicle may be permitted to sit in the back bed of a truck or the rear cargo area of a van, SUV, or other similar vehicle for viewing; provided however that no person shall exit such areas without wearing a face covering.
• The gathering of persons not from the same vehicle is prohibited.
• Drinking of alcoholic beverages is prohibited.
• Smoking of cannabis is prohibited.
• A maximum of four persons shall be permitted in each restroom at any one time, provided that social distancing can be maintained. If social distancing cannot be maintained, a maximum of two persons shall be permitted in each restroom at any one time.
---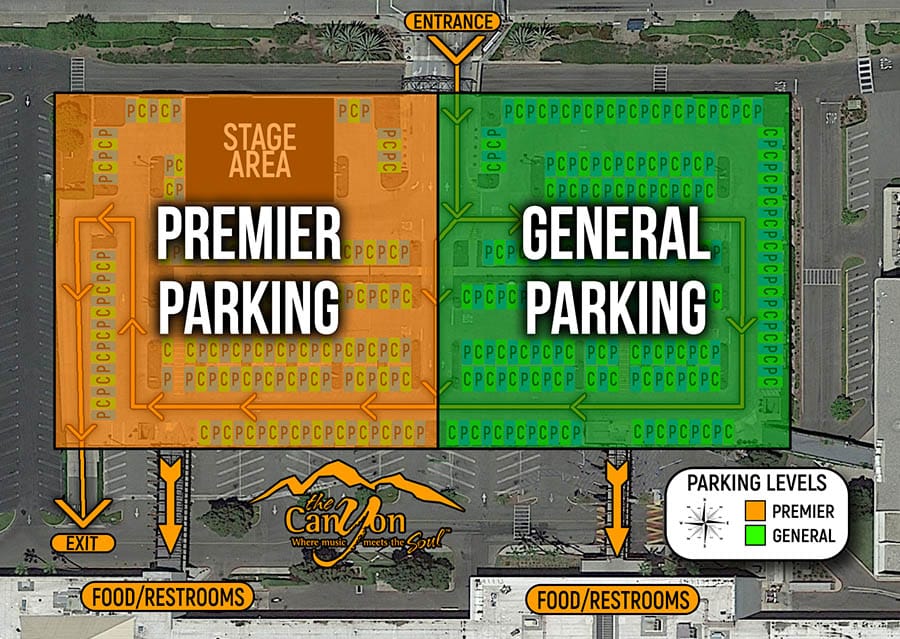 Location

The Canyon – Montclair

Montclair Place5060 E Montclair Plaza, Space #2020 Montclair, CA 91764