sat04nov6:00 PMsat6:00 PMZebraOpening sets by FuzzBubble & Whiskey DogzThe Canyon - Agoura Hills, 28912 Roadside Drive Agoura Hills, CA 91301-3304
Event Details

In 1982 Zebra's self-titled debut album went gold and was the fastest selling debut album in Atlantic Records' history thanks to the radio and MTV airplay of "Tell Me What You Want" and "Who's Behind the Door?". Veteran producer Jack Douglas (John Lennon, Aerosmith, Cheap Trick) also helmed the follow-up, "No Tellin' Lies". The songs range from the hard-rocking "Wait Until the Summer's Gone" to the Beatle-esque ballad, "Lullaby".

With the release of their third Atlantic album "3.V", Zebra took their career one step farther: the album's credits read "Produced by Randy Jackson and Zebra". Thus, for the very first time, the group gained complete control of its creative output. A collection of the finest songs they have ever written, "3.V" clearly shows Zebra's lasting power and originality.

In all, Zebra fans enjoyed a total of five videos aired on MTV and have given the band combined album sales of nearly 2 million worldwide.
Zebra emerged from the studio again in 2003 with "ZEBRA IV", on Mayhem Records. This could possibly be the best effort by Zebra to date with powerful cuts which include "Arabian Nights", "Why" and "Waiting To Die".

Zebra's live performances often last over two hours and showcase their new material along with all the classic Zebra tunes: "Who's Behind the Door?", "Tell Me What You Want", "Wait Until the Summer's Gone", "Bears", "One More Chance" and other all-time favorites including an occasional Led Zeppelin cover.

In 2010 Zebra was inducted into the Louisiana Music Hall of Fame and is acknowledged as Louisiana's #1 Rock and Roll band by the Louisiana Music Commission.

On October 18, 2012 Zebra was inducted into the Long Island Music Hall of Fame.

FuzzBubble was the first and only rock artist signed to Sean P Diddy Combs' label. But it's the music that people remember, and their brand of catchy, hard rocking power pop appeals to anyone with an affinity for The Beatles, Cheap Trick and the like.

November 4, 2023

Doors 6pm. Headliner 9:00pm

$28 / $38 / $48 / $58 / $68 + applicable fees

If you purchase a ticket at a table you are required to purchase dinner. You must arrive by 7:00pm.

Two Drink Minimum For All.

Under 18 Must Be Accompanied by a Paying Adult.

With regard and respect for the safety of our patrons no bags are allowed unless they are clear, and the contents are clearly visible.

There are a limited number of Zebra VIP Super Fan Experience tickets available for purchase.  This VIP Super Fan Experience DOES NOT INCLUDE A TICKET TO THE CONCERT.   Concert tickets must first be purchased via AXS.com via the above link.  The VIP Super Fan Experience can be purchased via the link below.  The Experience includes: Meet 'n Greet, Signed commemorative poster, Zebra T-shirt, Photo with Zebra using your camera phone or camera, Commemorative Meet & Greet laminate, 2 signed brought items.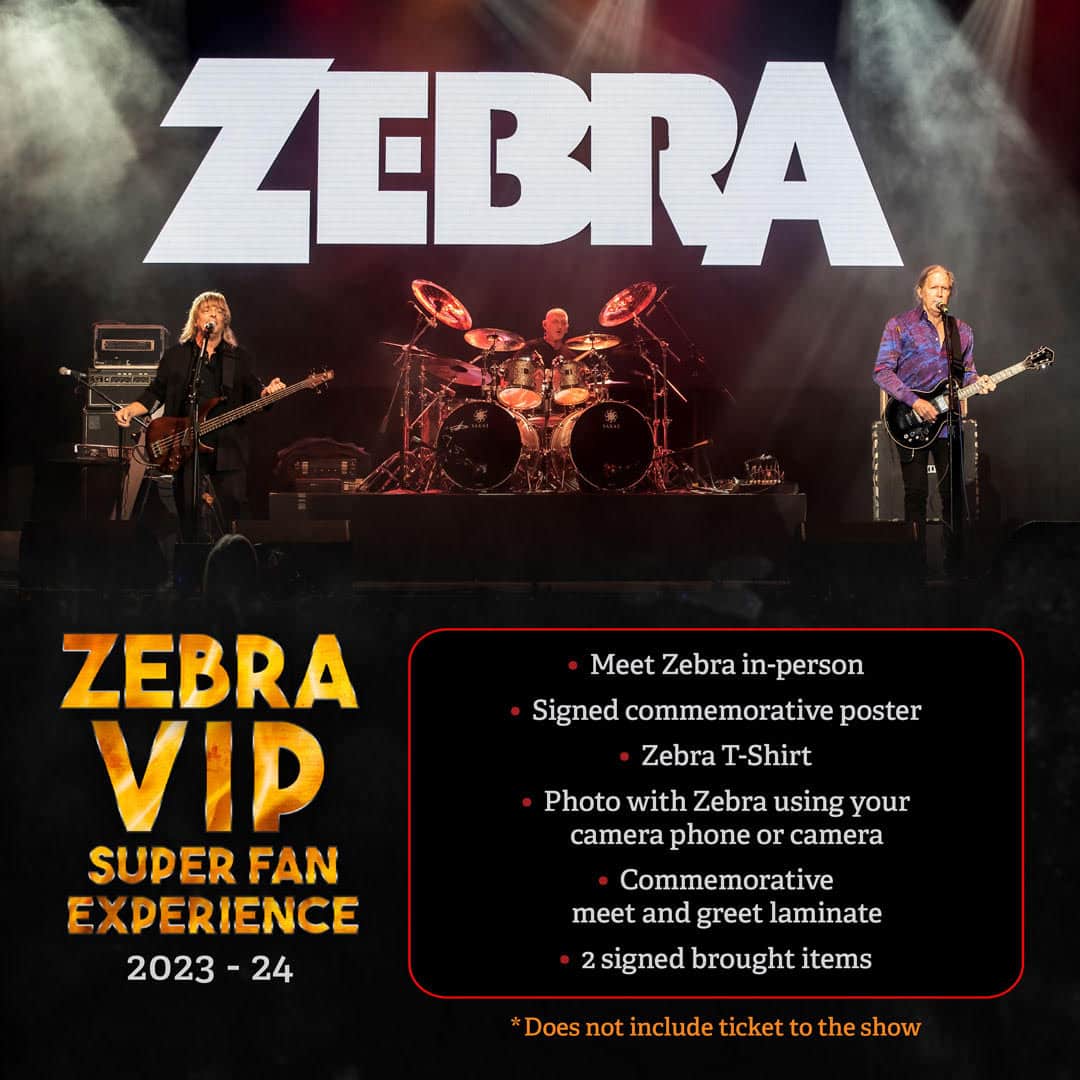 Time

(Saturday) 6:00 PM - 6:00 PM
Location

The Canyon - Agoura Hills

28912 Roadside Drive Agoura Hills, CA 91301-3304