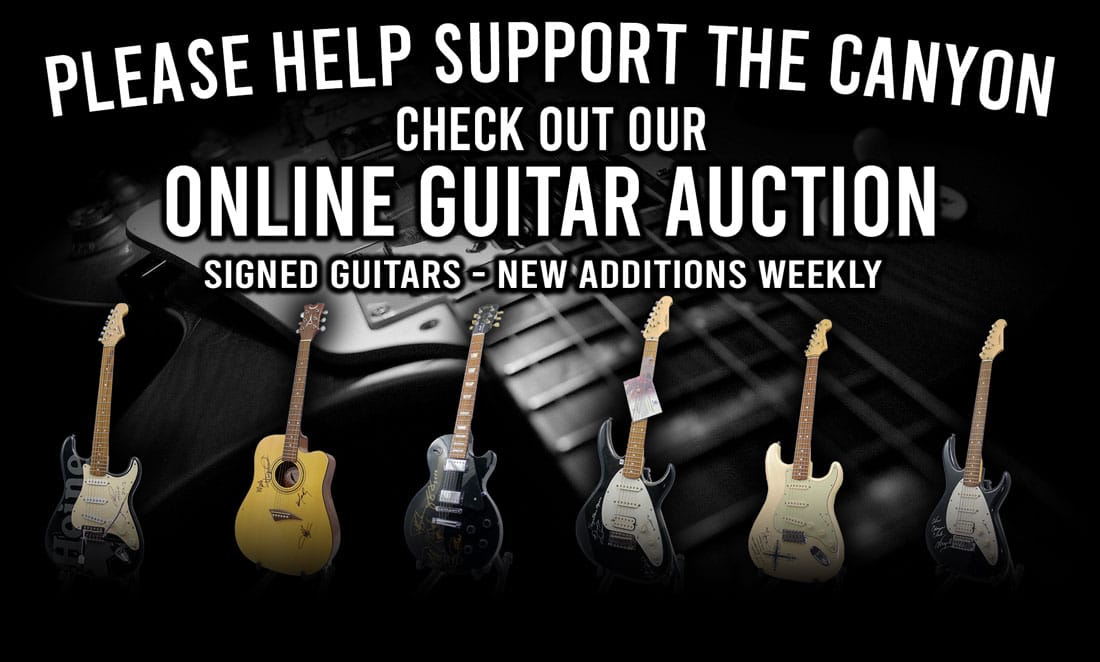 Click an Image below to see the DETAILS of Our Latest Auctions
No products were found matching your selection.
YOU MUST BE LOGGED IN TO OUR SITE TO BID.
Click Here to Login, Register or Edit Account Details & Display name
Auctions run for Two Weeks. Starting and Ending at Noon (12pm PST). Each Auction has its own starting Bid, and Bid Increment in $50 amounts.
Proxy Bidding is Enabled. Winners will be Notified at the End of Each Auction.
Check Back often for more Items Offered Up For Auction
---
Hello, this is Lance Sterling.
This lengthy closure has hit us hard. To make matters even worse, banks and the SBA have both locked us out of being able to borrow money to stay afloat. Therefore, in an effort to save The Canyon, I have put my personal collection of autographed guitars up for auction. All proceeds from the sale of these guitars will go toward paying our employees and contractors to whom we are obligated.
Because we appreciate anybody who helps us stay in business, we are creating a Foundation Membership list. Everyone who buys a guitar will receive special privileges and benefits when, hopefully, we re-open our business.
THERE ARE THREE LEVELS TO OUR
"FOUNDATION MEMBER LIST."

GOLD MEMBERSHIP - is reserved for those who purchase a guitar over $2,500
SILVER MEMBERSHIP - is for those who purchase a guitar over $1,000
BRONZE MEMBERSHIP - is available to anyone who buys a guitar
We hope you and your family stay safe and healthy during these unprecedented times. Please know that we certainly appreciate your patronage over the past 20 years. We look forward to the day, hopefully in the not-too-distant future, when we can rock out together at our Southern California Canyon/Sterling Venue Ventures locations.

Want to help out, but don't want to buy a guitar?
---
Your donations are most welcome.
---
To show our appreciation for your support,
each person who donates will receive a Canyon gift card equal to 50% of their donation amount.