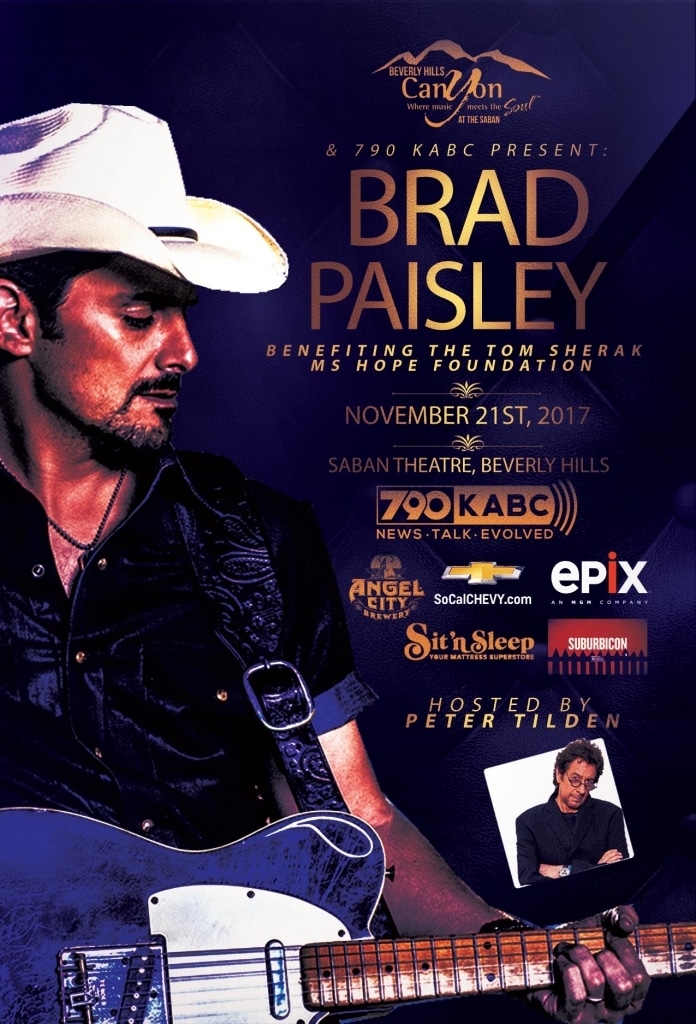 .. and it is out!
Every country music fan knows that one of the hottest Country music stars of today, Brad Paisley is embarking on his Weekend Warrior tour beginning on January 25 in 2018, but what most people are just now hearing about is Paisley is secretly playing at the historic landmark theatre, The Saban in Beverly Hills, CA on Tuesday, November 21.
A limited number of tickets are still available at https://wheremusicmeetsthesoul.com/events/brad-paisley-beverly-hills/ 
This rare event is hosted by Peter Tilden and presented by KABC and the performance will benefit the Tom Sherak MS Hope Foundation including a special performance by Glitter Rose.
Brad Paisley was named Best New Male Vocalist by the Academy of Country Music in 2000 and in February 2001, he was inducted into the Grand Ole Opry. Since 2000, Paisley has sold over 12 million albums and has won over 50 awards plus several Grammy Awards and is consistently on the Country charts. He has written 21 of his 24 No. 1 hits, including his most recent Billboard Top 100 song, "Today."
Written by Mikey Jayy