For over forty years, Southside Johnny & the Asbury Jukes have been known for making "New Jersey" sound mainstream across the country and has been popularized as the Godfather of New Jersey Sound. When you think of boardwalks and the Jersey Shore, you automatically think of songs including "I Don't Want to Go Home", "The Fever", "Talk to Me", "This Time It's For Real", and "Love on the Wrong Side of Town". Even Jon Bon Jovi, whom toured with Southside Johnny in 1990, credits Southside Johnny as the reason for his singing. Their "feel-good" music has put a permanent mark in music history.
In the year 1970, the town of Asbury Park, New Jersey was connected to an uproar of race riots where the West side was divided from the rest of the city. It was also a time of redemption and plenty of rock 'n roll in a venue called The Upstage Club on 700 Cookman Ave. This is where Bruce Springsteen met the E Street band, where Tom Jones played, and of course where Southside Johnny & the Asbury Jukes were born. As a result of the civil unrest, riots eventually destroyed the popular venue in 1971, but as we all know, the Artists that performed there didn't die with the venue.
From 1975 to today, Southside Johnny & the Asbury Jukes went on to create 75 albums over the next four decades. His fame grew from the small area of Asbury Park and grew to over take the mid-Atlantic states and has been most remembered for the heavy horn sections, danceable instrumentations, and the fact that over 150 band members have come and gone since the creation of the band.
Interview with Southside Johnny: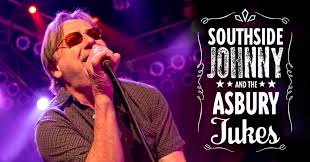 What made you decide to create the band in the first place?
SJ: When I first started singing in the 1960s, we played mostly blues and classic rock 'n' roll. I grew up listening to jump blues like Count Basie and Wynonna Harris and big Joe Turner and I also loved the sax/volt sound of Sam and Dave and Otis Redding and I wanted to have a band that could reflect some of that. That meant a horn section, which was very hard to find back then. It took us a long time to find three horn players that we felt could play in our eclectic style of music. But eventually we did.
While teen pop music was popular during the late 60s and early 70s,
what artists did you look up to that directly influenced your style of
music?
SJ: I was there for Pop music fans. I didn't even like the Beach boys. I was more a Chicago Blues and R&B aficionado; Little Walter, Elmore James, early James Brown, Ray Charles… Those are the kind of people that I looked up to.
Some of your influence can be credited to your father, whom was a bass
player. From your father's style of music, how did Southside Johnny &
the Asbury Jukes become its own thing?
SJ: I guess if you're a musician the way you think and feel is eventually going to come out of you. I like so many styles of music that it just made sense to try to synthesize all of them. I also had partners in crime like Steve Van Zant, Garry Talent, Sonny Kenn and Bruce, so it was just natural that I was influenced by all of their tastes in music, too.
You have a very active tour this year to promote your new vinyl EP
entitled, LIVE from E-Street. How would you describe this album and
what was the reason behind releasing this EP?
SJ: Every February, the jukes try to play a show in New Jersey at The Stone Pony for the fans to try to break up the winter. We look for different themes and songs to play. I decided it was time for me to do a bunch of Bruce Springsteen songs that I always loved but never covered. It was a great night and the band played spectacularly, so I thought I put some songs out for consumption. Because, I'm a great humanitarian.
Four of your four tracks are covers of Bruce Springsteen, "Jack Of All Trades," "Murder Inc.", "Cover Me", and "10th Avenue Freezeout" and boy, are they good. What was the reasoning behind the four cover songs?
SJ: We recorded some 20 songs and I felt those four offered a wide variety and that we sounded good on them.  
After listening to samples of about 40 years worth of recordings. It's
as if your voice just gets better over time. What is your secret to
preserving and the improvement of your incredible and magnetic vocals?
SJ: Well the very first thing is that you should never drink any alcohol… that isn't in front of you. Seriously though, you need to get a good amount of sleep, drink a lot of water and shut up during the day. When I was 18 I could party all night and still sing for hours. I am no longer 18.
At the young age of 68, what keeps you going back to the main stage?
Why do you still do it?
SJ: Still searching for those golden moments. They're out there and I will find them. Plus, I have a great band and we all get along very well. It makes it fun to be on stage. Besides, I don't know how to do anything else.
What's in store for you and the Asbury Jukes in the near future?
SJ: Prison, probably. Or maybe just a meeting with the apocalypse. We take requests, so it should be all right. The devil loves to dance.
See Southside Johnny & the Asbury Jukes LIVE at The Rose in Pasadena on November 3rd and on November 5th at The Canyon.
Tickets on sale for The Rose on 11/3 at https://wheremusicmeetsthesoul.com/events/southside-johnny-pasadena/
Tickets on sale for The Canyon at 11/5 https://wheremusicmeetsthesoul.com/events/southside-johnny-agoura-hills/