Written by Mikey Jayy
American Singer-Songwriter, Charles Eugene "Pat" Boone, has done and seen it all in his 60+ years in the Entertainment Industry. No one has had more opportunity than Pat Boone. The 50's marked the start of his success and nearly every teenaged girl swooned over the young Boone. Pat's early popularity earned him several opportunities moving forward.
Throughout his illustrious career, Pat sold 45 million records, had 38 top 40 hits, and appeared in 27 feature films, documentaries, and even had several rolls as a voice over actor. Some of his most notable appearances were in April Love with Shirley Jones (1957), Journey to the Center of the Earth with Diane Baker (1959), State Fair with Ann-Margaret (1962), Goodbye Charlie with Debbie Reynolds (1964), and The Greatest Story Ever Told with Max Von Sydow (1965). Pat even shared the stage with Elvis Presley, where, believe it or not, Elvis was the opening act.
Pat Boone prided himself as being the most clean-cut person in show business and stayed on the straight and narrow by staying true to his religious beliefs. He declined a roll in the 1963 film Stripper to work with Marilyn Monroe in worry that it would tarnish his reputation, but Pat has been known to stretch those boundaries on a few occasions.
In 1997, Pat released a collection of cover songs called, In a Metal Mood: No More Mr. Nice Guy, which features songs by Metallica and Guns N' Roses. Pat also performed on an album comprised of a collection of R&B hits featuring the original Artists like James Brown, Isaac Hayes, Ray Parker Jr., Smokey Robinson, and more.
See Pat Boone at Saban Theatre on March 25. Tickets are available at http://sabanperformances.com/events/pat-boone/
Interview with Pat Boone: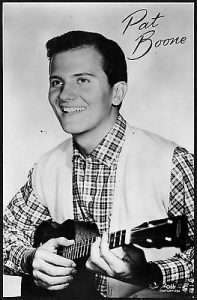 Q: In over your illustrious 60+ years spent in the Entertainment industry, it seems you've done it all. You've been as a singer, TV host, actor, and author. What was or is your favorite part of your career?
PAT BOONE: The thing I love best is recording; followed closely by singing the songs LIVE for an audience.  When I go into the recording studio I know that I am making something that will last, and if it's good, will be respected for a long time.  That's magic.
Q: Do you have a specific song that you just love to perform live?
PAT BOONE: Love Letters in the Sand and April Love are my two favorites, because Love Letters was the biggest selling record ever, and I never understood why – April Love was written for my second film by two Academy Award writers and my wife. Shirley's birthday is April 24th and she is my April Love.  (I should also mention The Exodus Song, for which I wrote the words)
Q: I heard you have the nickname, "Blue Moon Boone". Did you earn that name from your song, "Blue Moon"?
PAT BOONE: Yes, when I was in high school and singing at the drop of a hat at the least opportunity, even if I didn't have music, I could sing Blue Moon, which had been a popular recording, and I did it so often that I became known as "Blue Moon Boone."
Q: How did you develop your persona as a clean-cut, all-American teenager growing up in the early '50s?
PAT BOONE: I had nothing to do with "developing my persona;" I just live the way I live, and people found out about it.   I was a clean-cut all-American teenager growing up in the '50s, so I couldn't help that people discovered that.  
Q: Did you attend regular High School? What was it like being you during that time as such an iconic figure?
PAT BOONE: I attended a Christian high school, and I had to work digging ditches in the summer time for my contractor father, helping build hospitals, churches and homes, so I could pay extra to get my education in a Christian context.   It was that important to me in the high school days.  I certainly wasn't iconic at that point – I was intending to be a schoolteacher / preacher like my current role models.
Q: I once read or saw on a TV interview once that you were a rival to Elvis Presley and that the rival began because he wasn't happy that he had to open for you and not vise versa. What really happened that caused the rival?
PAT BOONE: I had no rivalry with Elvis or he with me.  We were friends, but friendly competitors. He did open for me at a sock hop in Cleveland in 1955, but that was because he was unknown at the time – with his first record soon to be released – and I had three hits that I had recorded since March of that year.  So, I was the star and he was my "opening act."  I was smart enough never to follow him after that.
Q: Is it true you turned down a part to act and work with Marilyn Monroe? What was the story behind that and do you ever regret turning down that opportunity?
PAT BOONE: Yes, I had to turn down the part at 20th Century Fox to star with Marilyn Monroe because the story was immoral and I was concerned about my young teenage fans.  (I was 22 at the time).  20th went ahead and made the film with Joanne Woodward and Richard Beemer and it was a colossal flop.  Meanwhile, I made Journey to the Center of the Earth, which saved the studio from bankruptcy. Interesting.
Q: I don't recall any artist that has spent more time on the Billboard charts than you (220 times to be exact). That is a great accomplishment for any person, but for you personally, what accomplishment are you most proud?
PAT BOONE: Yes, nobody has come close to my 220 weeks, consecutively on the Billboard singles chart.  That's over 4 years, and hardly anybody stays "hot" that long now.  I have had many career highlights of which I'm understandably proud.  I'm most grateful for my marriage to Shirley Foley these 63 years, our resulting family of outstanding citizens and that our names are written in the Lambs book of life.  
Q: Let's spend a moment on your latest projects. What have you recently released? 
PAT BOONE: The latest two recording are Duets, which is composed of songs I sang on my TV show (The Pat Boone Chevy Showroom that aired on ABC-TV from 1957 – 1960) and in movies with Ella Fitzgerald, Nat 'King' Cole, Johnny Mathis and so many other greats.  The other is Legacy, contemporary Christian and worship songs for which I wrote the words and the music.  I call it Legacy because that's something you leave behind for others that you hope will be of value to them.  We've also just re-edited and re-released God's Promises For Your Every Need, in which my wife, Shirley, and I read over 2000 verses from the Old and New Testaments, all of them promises of God to meet our every need.  I wish every human being would have and listen to that one!
Q: You'll be coming to Beverly Hills on March 25 to play at the Saban Theatre and I'm sure a lot of people will be excited to see you perform that night. Tell me, what is it about performing live that makes you want to keep doing it even when you don't have to?
PAT BOONE: I'm really looking forward to the night at the Saban.  For a singer / performer there's nothing more exhilarating or deeply satisfying than having an audience of people of all ages seem to thoroughly enjoy and appreciate your music.  After all, it's my life – it's nice to be appreciated for the life I've lived and the songs I've sung!
Here's what we can expect from Pat Boone's live show on March 25:
In this funny and often touching autobiographical one-man show, the iconic and legendary entertainer, Pat Boone, sings the hits and tells the stories of his 60+ years in show business. From the early days of competing with Elvis for the number one spot on the Pop music charts, to his film and television career, to an inside glimpse of his family life….Pat shows why he's still one of the all-time greats.
April Love
Love Letters In the Sand
I Believe
Tutti Frutti
Tumblin' Tumbleweeds
The Days of Wine and Roses
This Is My Country
Rock 'n Roll Medley
Nature Boy (with Nat 'King' Cole)
It Don't Mean A Thing (If It Ain't Got That Swing) (with Ella Fitzgerald)
The Look of Love
Willing and Eager (with Ann-Margret)
Smoke On the Water
The Exodus Song (This Land Is Mine)
You and I
Under God
…and many more!
 PLUS…archival footage from The Pat Boone Chevy Showroom, The Arthur Godfrey Show, and The Ed Sullivan Show.
Thank you Pat for a truly unique experience. We look forward to having you live at The Saban, on March 25, 2017!