Written by Mikey Jayy
When you hear the name Gino Vannelli, immediately you think of the songs, "I Just Wanna Stop", "Living Inside Myself", "People Gotta Move", and "Wild Horses".
Gino has been one of those iconic figures of the 70s and 80s, that even if you didn't know who he was, you at least knew the songs and you most likely could recite all of the lyrics and even recall the moment you first heard his music.
This Canadian born singer-songwriter was one of three siblings and son to a big band musician, Russ Vannelli. While this fact is often disputed, Gino was the first (or second) white performer on the hit television show, Soul Train. Gino received a Grammy Nomination for his song "I Just Wanna Stop", which went to No. 1 in Canada and No. 4 in the US. Gino was also a twice recipient of the Juno Awards for "Best Male Artist" in 1976 and again in 1979. In 1986, Gino shared a Juno Award with his brothers as a Recording Engineer of the Year for his work on "Black Cars", then again, for "Wild Horses" and "Young Lover" the following year.
Throughout the 70s, 80s, 90s, and 2000s, Gino's career never slowed down as he released 3 albums that went Platinum and 5 albums that also went Gold, 19 songs became Canadian Singles, and 10 songs charted on the Billboard 100 in the US.
Gino Vannelli will be performing live on stage at The Rose in Pasadena on Saturday, February 11. Get tickets at http://wheremusicmeetsthesoul.com/events/gino-vannelli/
Interview with Gino Vannelli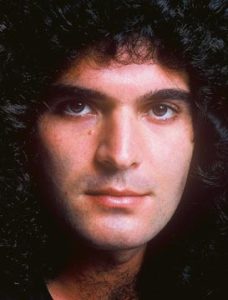 Let's go all the way back to the beginning. How did you get your big break? Was it easy to break into the music industry? What was that definitive moment that changed your life?
Gino: The first decisive moment was meeting the great big-band drummer of the 30's and 40's, Gene Krupa. At ten I played drums in the relief band at the Casa Loma, a nightclub in Montreal. (I was chaperoned every night by family) Gene Krupa was passing through and performed for a couple of nights. I always knew I loved music but seeing him up there, just 10 feet away from me was like a magic potion.
From the outside looking in, it's as if your father was the primary influence in your decision to become a musician. Was he the reason you wanted to become one yourself?
Gino: No doubt my dad played a central part in all us brothers turning to music for our 'salvation' on this good green earth. We listened to records only elite connoisseurs would be aware of in the late fifties and early to mid sixties. From opera to classical music to bebop, hard bop, big band, Latin, jazz, scat and big band singers, truly eclectic. My dad also provided insight to certain passages, whether instrumental or vocal. Very educational.
Gino, you've recorded and performed some of the most innovative music during the 1970s. It's because you sounded like no one out there. What motivated you to create this style of music early in your career?
Gino: I would listen to Dave Brubeck a lot. Loved Joe Morello on drums and Paul Desmond on alto. Also would run home to catch Oscar Peterson and his trio, Ray brown on bass and Ed Thigpen on drums. Half an hour on CBC every Friday. I met Oscar just before he died a few years back. Amazing player. During that same time period during the early to mid sixties, oddly enough, I found myself to be a fan of the 4 Seasons and the Beach Boys, and subsequently the Beatles and the Stones and every other British band that crossed the Atlantic by /65. Then came James Brown, Otis Redding and other soul artists. It altered my contemporary view of music quite a bit, especially rhythmically. 
Of all the songs you've created, what song are you most proud of and why? 
Gino: I honestly do not have any personal favorites, but indeed there are those I sometimes wish I would have had more skill to put the right finishing touches on. Some I get to redo, much like a revised book of poetry.
Your latest releases were back in 2009 when you released "The Best and Beyond" and "A Good Thing". Do you expect to record any more music in the near future?
Gino: Yes, I am almost done with a brand new record. Very narrative, or story driven, many songs written and played on acoustic guitar…I have found modern (and historic) Americana interesting and decided to let it influence this latest work– and it has, and has made for yet a different sound and theme throughout this record. Very different compared to past works.
Even when you're not releasing music, do you still find yourself writing music and lyrics anyway?
Gino:  I write everyday, whether it be poetry or song lyrics or whatever leaps from the top of my head. I have a hard drive full of words waiting to marry some music. Likewise, I have a hard drive full of music waiting to hook up with words.
What is the writing process for you during your everyday routine?
Gino: Part of the inward process is keeping the outer process going. Like vocal exercises, fitness, chopping away at the keys everyday or plucking the six-string…even learning some new software program. Staying interested keeps my demons away.
Tell us a little about your supporting band?
Gino: This Portland band I take with me is an amazing band. The show is both something I enjoy and have to work up to and reach for– it is that challenging. We dig right back to the beginning, the first album, Crazy Life and go from there. See you at the Rose.
Gino, thank you so much for this interview and thank you for all your wonderful music you've given us. I'm personally looking forward to seeing you perform at The Rose in Pasadena on February 11.