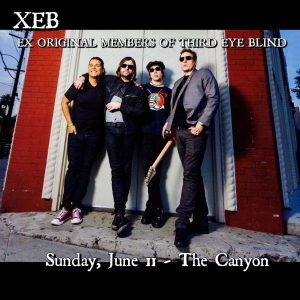 For twenty years, we've been listening to music by Third Eye Blind.
More recently, former member of Third Eye Blind, Kevin Cadogan (Third Eye Blind's original guitarist and songwriter) parted ways with songwriting partner Stephan Jenkins in 2000. Cadogan wrote 10 songs on the 14-song album, including Billboard Top 10 singles like "How's It Going to Be", "Jumper", and "Semi-Charmed Life". Cadogan also wrote "Losing a Whole Year", "Graduate", and composed six of songs on the sophomore album Blue.
XEB just launched its 20th anniversary tour this summer including a performance at The Canyon on June 11th. XEB will play Third Eye Blind's self-titled debut album released in 1997 as recorded in sequential order.
What you won't see from this performance is original lead vocalist, Stephen Jenkins. Jenkins is hosting his own tour as Third Eye Blind with a new line up of supporting musicians. Cadogan formed XEB with former members Tony Fredianelli (vocals) and Arion Salazar (Third Eye Blind's original bassist).
Tickets are available to see XEB for Sunday, June 11th at http://canyonclub.net/events/xeb/
written by Mikey Jayy